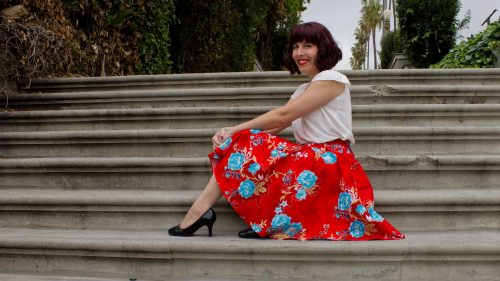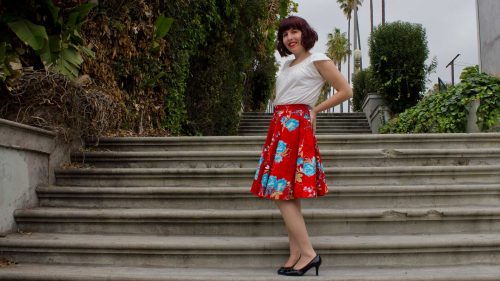 Is there any skirt more fun than the circle skirt? The name, of course, comes from the shape as the skirt, as when laid out, is in fact a perfect circle.  If you're looking for an easy skirt that really full and twirlable, then the circle skirt is for you.  I loved how this turned out and it was really easy to create.
I demonstrate how to create your own circle skirt pattern using the same techniques used in the 1940's.  Your own measurements are used so you end up with a skirt that fits you perfectly.  You can also choose your own length, from a short skirt to a long one.  Just be aware that these skirts often take more fabric than a basic skirt, because of the fullness.  Sometimes, in order to get the skirt to fit, you'll have to fold your fabric the opposite way than it normally comes.  If you're still having trouble getting your pieces to fit, instead of creating the skirt out of two pieces, like me, you don't have to place the skirt on the fold and instead create it out of 4 pieces.  Just realize you need to include seam allowance in your pattern for any area that will have a seam.
I'll also show you how to easily assemble your skirt so you can create it and wear it in the quickest time possible.  This skirt looks great in fun prints and I bet you won't be able to wait to get started.