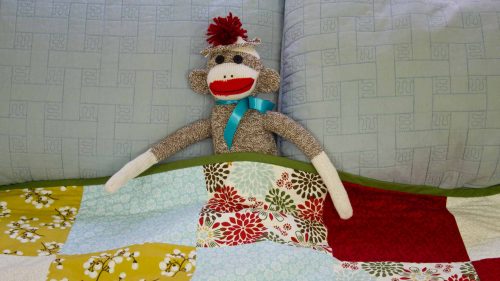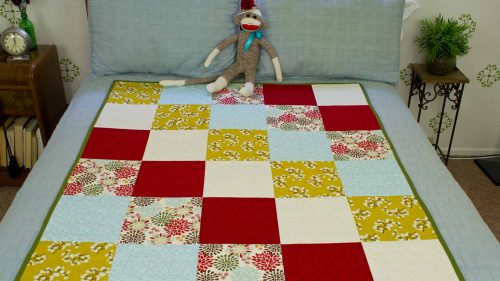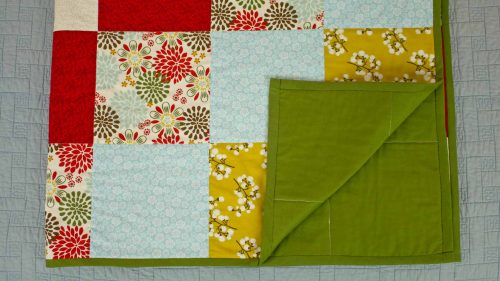 I love a good quilt, especially when the weather turns cooler.  Quilts have to be the ultimate comfort item.  Fall just feels like the quilt season.  Not that there is a real season for quilt making, it just feels right when it's all rainy or snowy outside and you can spend the day inside.  Especially since quilt making is pretty straight forward, it can be a very relaxing hobby.
If you've never made a quilt before, but have always wanted to try it, you're definitely going to want to try our tutorial.  This quilt tutorial is for a very basic and easy block quilt.  The top quilt is simply made up of a series of different blocks cut out of different fabrics.  The finished size of each block is 8" X 8".  It's not a very large quilt so it's totally manageable as a first time quilt achievement and I say achievement because I know you can do this.  The finished size of this quilt is 40" X 54".  At this size, you won't be able to wrap yourself up in it but it makes for a nice accent blanket for your bed or a good size for a child.  It's very easy to make this quilt larger, simply by adding more rows of blocks.
If you decide after this, that you really like quilting and you want to try a more complicating quilt top, you can still follow our tutorial for putting it together.  Quiltmaking can be an art, but I strongly believe that anyone can do it and the more you practice it, the better your quilts will become.
The sock monkey in these pictures was created in our Classic Sock Monkey tutorial.  You may need one to go with your new quilt. 🙂