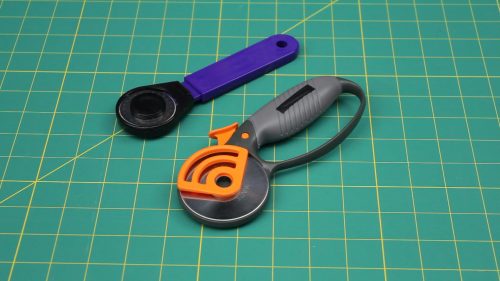 I think rotary cutting may be the best invention in sewing, (after the sewing machine, of course). If you've never used one before, give it a chance and it'll change your life. It's hard to go back to cutting with scissors again after trying one. I didn't have one with me when I moved away from home, as it belonged to my mother, and then I just never bought one, because starting over with buying the mat, cutter and ruler could be expensive.  I always came up with an excuse how I could just do without. I even made a full size quilt one time without the use of rotary cutting. Those of you who do a lot of quilting are probably shaking your head at the thought of me putting myself through that long drawn out process of hand cutting each piece. I'm right there shaking my head along with you. It did take a long time and I don't think I'm going to do that again anytime soon. I don't know how they did it in the old days before the invention of rotary cutting. I guess they probably didn't have as much going on in their lives as we do now, but, let's face it, no one likes cutting things out. It's boring and time consuming and we just want to get to the sewing!
If you're wondering why someone would go on and on about a simple cutting process, you'll want to check out the Professor Pincushion video on rotary cutting. I go over not only the rotary cutting accessories, but also how to take care of them and how to use them. Not only does it make cutting out things easier, but you'll be able to cut out pieces more accurately, which makes sewing pieces together easier. Trust me, my hand cut quilt pieces were not the most perfect. And rotary cutting is helpful in almost all your projects, not just quilting. No one was happier than me to be reunited with a rotary cutting set and I use it all the time. Thanks, Mom!
If you have any other rotary cutting tips and tricks not mentioned in the video, please post about them in the comments below. We always love to learn new things!