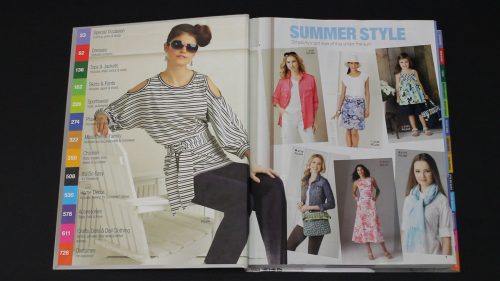 When I worked at the fabric store, I used to love that with the new seasons, came the new pattern books.  I would pour over them during my lunch break, writing on a paper scrap each pattern I wanted.  For me, it's not quite the same thing as looking through a clothing catalog.  I mean, sure, the end result is the same, new clothes for me, but it's the journey of the project.  The feeling of accomplishment I get, from starting from scratch and then having a finished item, has never left me.  Despite sewing all these years, I still take pride in something I create.  That feeling is addictive and this is why I get so excited when new fabric comes out or the stores receive their new pattern book.   I look at it and all I see are possibilities.  I want to jump in immediately.
I understand that not everyone feels the same way, but sometimes this is a result of not being able to comprehend a pattern book.  Whenever I'm at the pattern tables, it never fails that someone is also there, struggling to figure out the pattern catalog system.  In cases such as this, that pattern book is a tease.  It holds such beautiful pictures but where does one get started?  This is why we have this week's video tutorial which cracks the code on pattern books so you can look through them with confidence and quickly find the patterns you want.
I use the Simplicity pattern book as my example but pattern books are usually very similar so if you figure out one, you can definitely read any.  We want to thank Simplicity for allowing us the use of their pattern book.  Simplicity has a lot of wonderful patterns and I've been using them for many years.  I really want to help beginners navigate these books so they can also take advantage of all the amazing patterns out there.