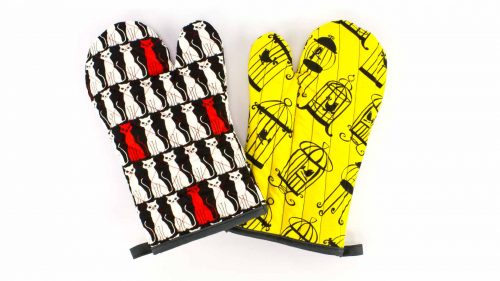 Do you like quick, easy projects?  Me too!  Making oven mitts are great and they make awesome gifts, especially paired with a cute apron.  You'll definitely want to make a few for yourself as well.
If you've done our pot holder tutorial, you'll find some parts of the process to be similar.  I do consider the oven mitt to be a little more advance than the pot holder, but I think that's because you're sometimes dealing with a lot of layers.  In this situation, I do find it helpful to have a walking foot.  If you haven't purchased a walking foot attachment for your machine, let me strongly recommend one.  It comes in handy for me all the time and you'll wonder how you did without one for so long!
I really love making oven mitts though, mostly because I love working with cute cotton prints and, with this project, I can use all the cute cotton prints I've stashed in my fabric collection.  It's just fun and makes me smile.
There's a free pattern download for this project.  Just make sure you're logged in to be able to download it.  You'll find the download box above, just below the video player.