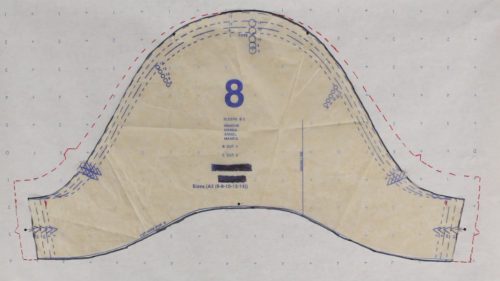 People love making their own clothes because they get make things that fit their specific body type.  The goal is that your handmade clothes will flatter and fit better than retail clothing.  Of course, in doing so, one must have the know-how on how to make tweaks and alterations, otherwise, clothes made from commercial patterns may end up fitting just as poorly.
This tutorial shows you how to make tweaks to the the set-in sleeve in order to increase the width of the sleeve.  The end result will be the knowledge on how to adjust your sleeve pattern pieces so your sleeve will fit you just right, especially if you frequently find your sleeves too tight.  In this example, I have you add two inches of functional ease to your measurement, which is quite common for woven fabrics.  For knits, you probably don't need this much ease.  As always, after creating an alteration, you should first make your bodice out of muslin to test the fit and see if you need to make any further alterations before using more expensive fabric.
Using the pivot and slide method, we show you how to increase the width of a short sleeve and long sleeve.  Like with the bustline, the sleeve also affects how big our armhole needs to be.  If you're not increasing the sleeve more than 2" total, then no further adjustment needs to be done to the bodice or the armhole.  If you find that you do need to increase by more than 2" total, you'll want to watch the second part of this tutorial, because we show you how to do an added extension to make up for the increase.  We also show you how to do this same extra extension for the bustline, if you also find yourself need to do a fba (or full bust alteration) that increases more than 4" total since you are also affecting the armhole in this process and will also need to work with the sleeve.