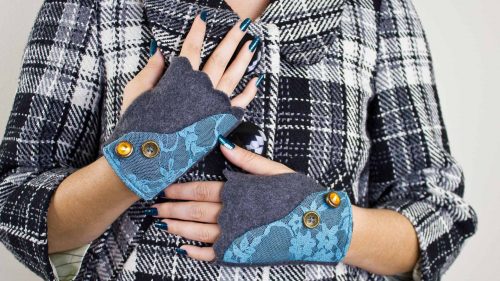 To celebrate the fall season, I've created these lovely fingerless gloves.  Made out of a cozy fleeze, these gloves offer added warmth for the cooler days but your fingers stay free for greater ease.  They also can be quite elegant with the addition of a contrasting lace and vintage buttons.
Like all my favorite projects: they're easy to make, it doesn't take a lot of fabric, and they also make great gifts.  Just realize, while this tutorial does offer a pattern, the size is for a small, but you can always scale up when you print it or make your own pattern based on your own measurements.  I go over in the tutorial how I created the pattern and it's quick and easy to do.
I decided to use fleece for this project, not only because it's warm and cozy, but also because one direction of the fabric stretches and you definitely need that stretch to fit it on your hand.  When you cut it out make sure to lay the pattern so it'll stretch around your hand, rather than stretching up and down the hand.