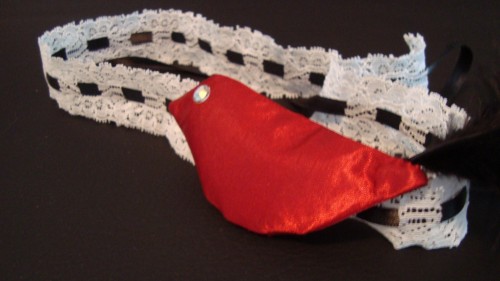 I've always been fascinated by the Flapper era.  The 1920′s mixed glamour with fun.  I love it all:  the fashion, the architecture, the hair…Although, I'm not really a fan of the eyebrows, but you can't have everything.  This era was the inspiration behind my "Flappy Happy Headband."
Many of the flapper style headbands use feathers for decoration.  I love feathers, but I thought that a whole bird would be even better.  Sometimes, you just have to go all the way.  I admit to having a strange fascination for birds and would eagerly put them into every project.  The only thing that stops me is that I don't want to give people the impression of a crazy bird lady.  The feather, though, seemed to give me permission that, in this case, it was absolutely necessary.  Not only did I have a feather coming out for the tail, but I also included some stuffing into its body to give it some depth.  Just put in a little though.  You don't really want to create too much weight for the lace headband to support.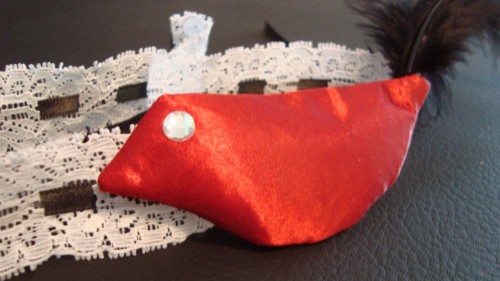 I also loved doing the ribbon woven through the center of the lace.  I used elastic lace, which had a nice stretch to it.  The problem was that once the ribbon was woven into it, the headband was no longer stretchable.   To maintain the stretchiness, one would have to have elastic ribbon.  I did not have this, so I just made my ribbon extra long so that I could tie it in a bow behind my head.  If you don't want to take this route, you also could just make your headband a couple inches shorter than the circumference of your head and sew a small piece of elastic between the two ends.  I kind of like the carefree look of the ribbons hanging down the back while doing the Charleston though.